Greetings from the sifria.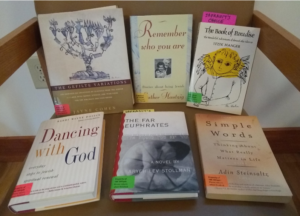 The pandemic has kept us out of our wonderful new building since March, but it hasn't stopped our expanding library. If you want to come in and borrow books (or take some from the free-swap shelves), please contact Rabbi Asch or Dawn in the office to arrange to be let in.
Library books can be returned in the plastic box on the porch of the sanctuary building.
Our collection (barring occasional omissions here and there) is 
online
:
Search for a book in the "Search This Library" field at top right; or
Click on "Tags" to see the books listed by category.
Questions? 
Email Li'el Boudreau
, our amazing librarian! In the meantime, check out these titles you might enjoy – a brief sampling of the hundreds we have on hand!