Hebrew School–9:30am to 12 on Sundays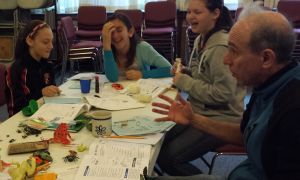 We are proud of our Hebrew School, which offers enthusiastic teachers, small class sizes, and a vibrant curriculum.  If you are interested in enrolling your child, please contact Rabbi Asch to arrange a meeting.
At each Hebrew School session, there are four distinct parts to each student's learning, all of which are important to helping to raise our children as educated, "menchy" Jews with a strong sense of Jewish identity and community.
1. All School Time
We set aside time for our students to spend with other Jewish kids and build a community of Jewish friends and adults. During these diverse classes, teachers also incorporate activities which help our students get to know one another better and develop friendships. Past classes have included cooking, Jewish music, art, drama, photography, games and more!
2. Judaic Content
We want our students to have a broad knowledge of Jewish texts, history, and values. Our youngest students study a different holiday or value every session; our elementary school students work with the Chai curriculum to teach Jewish values. Our b'nai mitzvah students focus on different modules created by our four teachers.
3. Hebrew
Having a basic knowledge of Hebrew helps our students pray in our community and in Jewish communities they encounter for the rest of their lives. We use Hebrew Through Movement program to teach vocabulary and understanding. Students also master letters, and learn the meanings behind the prayers as well as basic Hebrew vocabulary and root words.
4. Prayer
Each week we have Circle Time, which is a prayer service that helps to build community and teach students the basic elements of prayer. This is a vital part of our day together. Students learn the prayers by participating actively in Circle Time; parents can help by following along with their children. This is also time to learn the structure of the service and basic prayer choreography (when to sit, stand, and bow). Finally, it is a time to have a group teaching about a Jewish value, a big question, a ritual, and other important topics