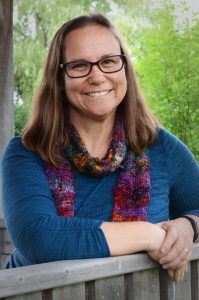 Rabbi Erica Asch did not follow a traditional path to becoming a rabbi. The daughter of a mixed marriage – her father is not Jewish – she grew up as one of a handful of Jewish kids in the Navy town of Coronado, California. Being part such a small minority intensified her sense of Jewish identity, which she cultivated further as a student at Oberlin College. After graduation, she joined Teach For America and taught high school math in the Mississippi Delta, where she discovered her life's vocation. She realized she wanted to spend her life teaching Judaism rather than algebra.
She enrolled at Hebrew Union College-Jewish Institute of Religion in Cincinnati and served pulpits in Greenville, Mississippi, and Ishpeming, Michigan (which has proven good winter training for her rabbinic life in Maine). She was part of the AJWS Rabbinical Student Delegation to El Salvador in 2006 and served as a student representative on the Commission on Social Action of the Union for Reform Judaism.  She was ordained in 2008 and then took a position as a community organizer with the Industrial Areas Foundation, the first rabbi to do so directly out of rabbinical school. After three years with IAF, she served at Temple Sinai in Washington, D.C. before moving to Augusta.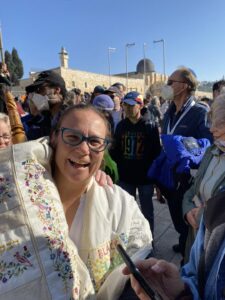 Rabbi Asch has served as the rabbi of Temple Beth El in Augusta since June of 2013. Rabbi Asch is active in the community and has most recently been working with the Capital Area New Mainers Project, a group of volunteers who welcomes immigrants and refugees to the Capital Area. She and the congregation have also worked with local school boards to better serve the needs of religious minorities in their schools. Rabbi Asch also works for Center for Small Town Jewish Life. She is on the Commission for Social Action of the Religious Action Center and is President of the Central Conference of American Rabbis.
Rabbi Asch wants to encourage people to connect to community and Jewish tradition and to actively engage with Jewish texts and rituals. She sees herself not only as a teacher but a lifelong student of Judaism.
Rabbi Asch lives in Hallowell with her husband, Chris Myers Asch, and their children, Miriam, Robin, and Aaron.
Rabbi Emerita:
Rabbi Susan (Dietz) Bulba Carvutto was born and raised in Newton, Massachusetts. She graduated from Radcliffe College at Harvard University in 1968 where she studied ancient history in order to pursue her childhood dream of becoming an archaeologist.
The sixties persuaded her to redirect her goals to something socially meaningful. She obtained a Master of Arts in Teaching degree at the Harvard Graduate School of Education in 1970 and became a public elementary school teacher. She eventually began teaching in Jewish day schools in the greater Boston area, including Solomon Schechter Day School in Newton, the Maimonides School in Brookline, Cohen Hillel Academy in Marblehead and the Solomon Schechter Day School of the Merrimack Valley in Haverhill, which she also served as administrator. In 1979-1980 she studied at the Hornstein program in Jewish Communal Service at Brandeis University. From 1980-1982 she taught at the Walworth Barbour American International School in Israel.
After returning from Israel she directed the Hebrew School at Temple Beth Shalom in Peabody, Mass. During this time Rabbi Burton Padoll encouraged her to consider studying to be a rabbi, a dream that was inconceivable in her childhood. In 1993 she entered Hebrew Union College from which she was ordained in 1997.
In 1997 she joined Temple Beth El as its first resident rabbi.  She considers her role as rabbi as a continuation of her lifetime career as a Jewish teacher. Rabbi Susan takes great pride in her direct involvement in Temple Beth El's outstanding Hebrew School, her outreach to the central Maine interfaith community, and in the deep pastoral relationships within our community. In 2013 she retired and became Rabbi Emerita of Temple Beth El. She is still an active participant in the life of the Temple, attending Shabbat services and Torah study regularly.