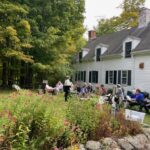 All are welcome to join us for the holidays–no tickets are required. Our full schedule can be found here. Join us for our Rosh Hashanah services including our Lipman Kiddush on Saturday, September 15th after services and our outdoor services on Sunday, September 16th. We have programming all day long on Yom Kippur including an including a panel on fasting in various religious traditions, a meditative service, and a beautiful Ne'ilah service. We continue with Sukkot and Simchat Torah. Feel free to contact the office (bethelaugusta@gmail.com) and read our monthly newsletter for more information. 
Newsletters
Click below to read about the latest happenings at Temple Beth El.
TBE's Board of Directors recently adopted a Statement of Ethical Principles.  It begins: 
Temple Beth El is a vibrant and inclusive Jewish congregation located in Augusta, Maine. We adopt this Statement of Ethical Principles to affirm our identity as a welcoming, safe, and inclusive sanctuary for all who come through our doors. Jewish tradition teaches that every person is created b'tzelem elohim, in the Divine image. Accordingly, the cornerstones of this Statement are nondiscrimination, mutual respect, and conduct towards each other and the community at large that embodies the Jewish values of kavod (respect), bitachon (safety), and chesed (lovingkindness).
Read the full statement here.